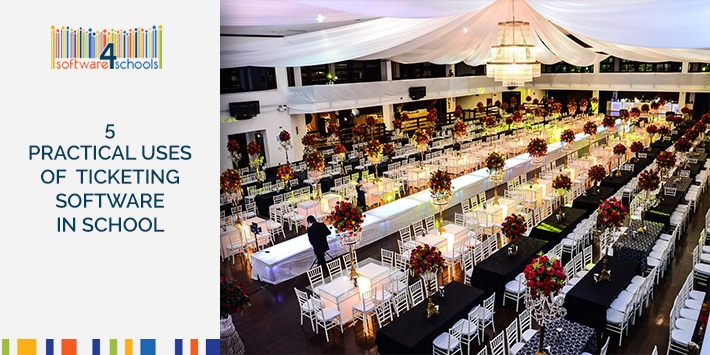 Do you remember how schools once used to sell tickets for schools events?  Their "receipts" for payments were raffle style tickets, or wristbands, or rubber stamps.  And to be doubly sure who had paid, teachers still had to find and mark off names on printed lists: A-H, of the left; I-P in the middle and Q-Z on the right. Will Call tickets at the next table!
Those days are gone – thanks to the pioneering technology of Ticketing 4 Schools, and quite a number of similar products that have since followed suit.
You might think that with a name like Ticketing 4 Schools, this is all the program is good for: selling tickets and checking in students — really fast. But a fully-loaded program can do far more, pushing well beyond the boundaries of daily school attendance.
Here are 5 Practical Uses of Ticketing Software in Schools:
1. Manage and track attendees at large events
For security reasons it's important to know the identities of all students at an event, including their guests. Sure, you can quickly scan the barcode on each student ID card but good ticketing software will also generate pseudo IDs and barcoded receipts for guests whether these be family members or boy and girl friends. It's also essential to be able to check students and their guests out, and back in, and out again if required. Depending on how the event is configured in the program before the dance, so it's possible for the software instantly to message those who are doing the scanning whether the student did in fact pay, or is on an exclusion list, or is not allowed to leave until the end of the event. The day a school has a serious incident at an event the value of knowing exactly who was there at the time will prove to have been crucial.
2.  Manage fundraising events
You never quite know who's coming to a fundraiser or who paid what. And maybe all you care about is the money dropping into the bucket! But suppose you have a car wash day with a number of standard prices – depending on extra hand polishing or prepayment. With Ticketing 4 Schools you can set up your event, with all its price breaks, in advance and then ring-up, or scan-up the car washes as you go.
With a little imagination you can sell tickets, or batches of tickets, in advance or at the door, for schools fairs, carnivals, game nights, trivia quizzes – all by means of good ticketing software. And at the end of the evening the program has tallied up all the receipts so you can balance your cash drawer. That alone, is more valuable than you might imagine!
3. Manage student attendance for outings and field trips
With the Wi-Fi portability and Bluetooth scanning capability of Ticketing 4 Schools you can use the program for much more than selling tickets.  Once again, you configure the event in advance then scan the kids on to the buses. Once they're seated, a quick glance down the computerized list will tell you who didn't show up and how many you have on the bus. Normally kids all know each other and can soon tell you who is missing, anyway. But with new student rolls, the extra certainty of the list on your iPad might be invaluable.
Structured events like outings are also easy to manage. Or suppose an athletic team has a big game on Saturday. You have no idea who'll be there to cheer on their team, but you can scan them all in at the gate and know exactly who came. If necessary, you can instantly sell tickets at the gate. We will see the value of this in a few moments.
4. Manage attendance for study hall,  exam rooms, detention or libraries
For study hall and examination rooms you generally know who to expect and can preload them from a spreadsheet then into your event database in Ticketing 4 Schools. With a number pad or a scanner on a stand the students can scan themselves in and out while you simply keep a watchful eye.
If the amount of time actually spent in the room is important to you good software will keep a running total of time in the room even though the student may need to checkout and back in, maybe to go to the restroom, or get a drink.
5. Accumulate spirit points to reward students who have attended many school sponsored events
You can decide how many events a student needs to attend to receive special recognition, and what sort of events they should be. But good ticketing software will give you the option to run reports showing what types of events students attended and how often. These reports then become the basis for whatever system you have for rewarding those students who show active participation; whether a plaque at a school assembly, or a gift certificate to the school store.
Summary
To wrap up, Ticketing 4 Schools can do so much more than just tally the attendance numbers and accounting for dances. It can log people in to any event, anywhere. Whether you know who's coming or not. It will take the extra effort out of fundraising events, field trips and management of who is in or out of study hall. It can report on all attendees giving you a wide and detailed analysis of your most popular events, and which students participate the most, showing the most school spirit. Please click here for more information.