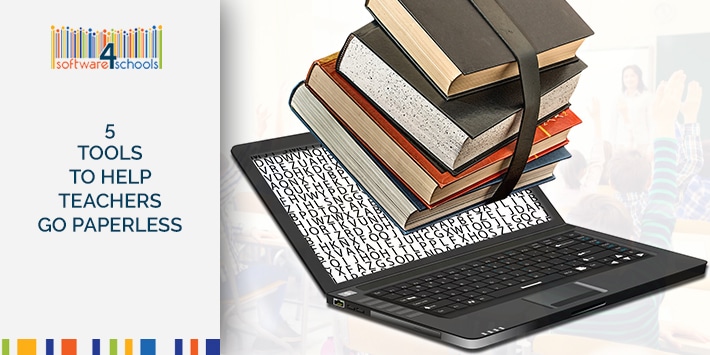 To go paperless or not is no longer a huge debate. It's more of a matter of when. In fact, there are over 12,000 American K-12 schools that have already adopted going paperless in their classrooms using tools like PDF annotation apps. This trend will continue to grow as technology accelerates and transforms the educational landscape in the years to come.
More than just a trend, adapting to new technology is inevitable, even for educators who are more used to pen and paper to record information, and cart around  loadful of books and educational materials as they walk to their class.
First, going paperless reduces the financial and environmental impact for schools, teachers and communities as a whole. Some of these costs include paper, printers, ink cartridges, storage area facilities both in and off school premises, and even recycling-related costs. Additionally, online tools are cheaper in the long run because the updates are mostly free. Furthermore, the reduction of waste helps create a sustainable future for everyone.
Second, going paperless maximizes a teacher's time and effort, resulting in increased efficiencies and productivity. Files are organized and saved in one secure place in the cloud and  may be shared with students, parents, and fellow teachers. Free online resources, lesson plans, class assignments can now be utilized by adding URL links and storing videos and podcasts/sound bites in a central location. Access to the data is expanded beyond the school and available any time. Data loss is further minimized since the data is backed up and virtually free of physical and weather-related hazards.
Lastly, going paperless helps teachers engage and connect more with their students who have grown up in this digital age of the internet, mobile devices and touchscreens. These tools provide a common ground that facilitates collaboration, participation, and discussion between teacher and student, and the sharing of students' progress and results to parents.
Most of the selected tools are easily available to download with free trials or versions and are accessible on multiple platforms (PC, Mac, iOS, and Android) and devices (laptops, tablets, and smartphones).
So, check it out.
Here's our suggestions on 5 TOOLS TO HELP TEACHERS GO PAPERLESS:
1. Office in the Cloud
Google and Microsoft are popular choices for users both having similar and diverse range of applications. New users create a free account which will enable them to access the app(s) of their choice.
Microsoft took their popular MS Office Suite and made the apps available online for free, and also created versions for iOS and Android devices. The online MS Office free version contains the popular Word, Excel, Powerpoint, Outlook, and OneNote that have the basic essential features available. The paid version unlocks more robust features. Nevertheless, the free version of MS Office is sufficient to cover your day-to-day management of information. If there is one standout application it is OneNote, which would rival Evernote any day.
Google decided to offer a similar version of the MS Office suite and created its own set of apps to compete and at the same time complement with Microsoft. Google's version includes Docs, Sheets, Slides, and Gmail, plus a host of other applications such as Keep, Maps, Forms, and Hangouts. The good news is all of these apps are free when you register for a Google account. You should be online though to use these apps. However, you can save a copy of your work on your computer and open your file using compatible MS Office apps or alternative apps like FreeOffice or LibreOffice.
2. Online Storage
Online storage is the key to going paperless. You'll need cloud-based storage to store and organize all your data so it can be accessed and synced from any device. Files can be shared with students, parents, and fellow teacher collaborators.
Both Google and Microsoft offer cloud-based storage. Google Drive allocates free 15GB  space for regular Google accounts. This 15GB storage is shared among all the apps associated with the account. For example, Docs and Sheets files count against this allocation. In contrast, Microsoft's version is called OneDrive and offers 5GB free online storage. Other popular choices include iCloud (5GB free), Box (10GB free), and Dropbox (2GB free). All the companies mentioned here offer paid versions for additional gigabytes of storage.
3. Note Taking
These apps act like repositories of data where users can quickly collect and save their thoughts and ideas for later.  Notes can be typed, scribbled with a stylus, or even voice-recorded, and shared with other users. Users can also copy and paste URLs, blocks of text from blogs, and images. They can quickly take photos of whiteboards, Post-It notes, physical notebook pages — almost anything a user can take a snapshot of using his/her mobile device's camera.
Popular choices include Evernote, Google Keep, and OneNote.
4. Mobile Scanners
Powerful scanning apps mean that users can now scan any document, photograph, business card, and receipts as jpeg, png, or pdf file format right from your mobile phone's camera. Then, they can be shared as a link, as an attachment to email, or uploaded to your cloud storage account.
Popular choices on the Google Play Store include the CamScanner and Tiny Scanner app.
Especially designed by teachers for teachers, these apps automate the often-repetitive and most time-consuming tasks, thereby helping teachers effectively manage their time. Each app costs only $299 annually to sign up (no long term contract) with free software updates done automatically.  The applications are stored on secure servers.
Voting 4 Schools – Setup online student elections with ease using two steps: create an election and then add the candidates' names. The app has endless possibilities besides elections — from answering simple surveys to being able to nominate and vote for who will be the school's Employee of the Year.
Ticketing 4 Schools – Easily manage school events without using paper. The app can be used to define your own ticket prices, then sell tickets by scanning students' IDs, create exclusions, track attendees by checking them in and out  as they enter and exit the event venue. The app also provides a number of reports that can be exported to .csv or printed as needed.
Store 4 Schools – Keep track of the school's store inventory, manage sales transactions and run financial reports with a few clicks of a button. Options for touch screen monitors, receipt printers, barcode scanners, and electronic cash drawers are also available.
Summary
In summary, going paperless is one of many important steps in the ongoing evolution of educational technology and digital learning in schools across our country. While there are already early adopters that have fully embraced being paperless, there remain many schools (and teachers) that have not even started, and still more who are somewhere in between.
For now, using these tools will not only help teachers go paperless but also prepare them to be major contributors in providing universal digital learning for all.