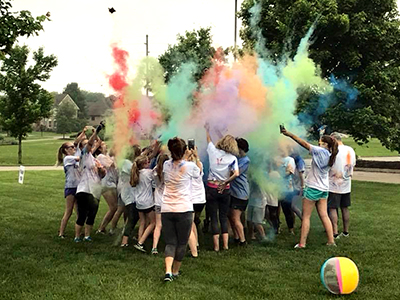 Excellent school events are critical for building the school community, generating excellent profits, and encouraging better relationships between staff and students. However, school events can be stressful for school staff because many things can go wrong.
In this article, we will tell you how to create the best school events:
Use a Digital Ticketing System
First, you need an excellent digital ticketing system to ensure your school events run smoothly. A digital event tickets system saves time, promotes safety, reduces paperwork, creates organization, and prevents lost or stolen tickets.
Most importantly, a digital ticketing system helps you keep track of everyone who attended the event. A check in check out system for students helps calculate profits and gives accurate attendance numbers.
Set Recurring Event Dates
One of the best ways to ensure large numbers of guests attend your events is by setting recurring event dates. That way, parents will know when events will take place in advance. As a result, they're more likely to plan to attend your event.
Popular recurring events include school anniversaries, religious celebrations, graduation ceremonies, and sports events.
Use KPIs
If you use KPIs before the school event, you'll have a better understanding of your goals and how to achieve them. Popular KPIs can include bringing new audiences and demographics to events, increasing overall event attendance, and boosting donations to charities within the school.
Once you have your key goals, you can work towards building the best events. Also, using the best online ticketing system can help you track your KPIs.
Promote Your School Event
Creating a school event is excellent, but it won't be a triumph unless you promote it. You must use various advertising channels—such as social media marketing, SEO, and local marketing techniques to encourage students and parents to attend.
Furthermore, ensure you properly advertise the event on your school website. Make it the top banner on the home page.
Plan Photo Opportunities
Have you ever heard of the fear of missing out—commonly called FOMO? You can build this at your school events by encouraging attendees to show their experience on social media.
You can hire professional photographers to take incredible pictures. That way, your parents and students will feel compelled to put the photographs on social media.
Have a Back-Up Plan
Events don't always run smoothly; you don't need to be an events manager to know that. However, you can prevent any widespread issues if anything goes wrong by having a backup plan.
For example, if you're running an outdoor event—but the weather might be unpleasant—you could reserve an indoor venue.
Have a Plan During The Event
Congratulations on making it to the day of the event. However, you still need a plan during the event. Here are some things to note:
Register your attendees – Always monitor who attends your event and the check-in time. It's far easier with a digital ticketing system.
Have excellent supervision – In most cases, things will go wrong during the event. If you have an excellent team of supervisors monitoring the event, you can work around any issues.
Use health and safety procedures – If you have many attendees, you must have various safety procedures to avoid any concerns.
Launch The Best School Events Now
If you follow the tips in this article, you'll create the best school events with little to worry about. Still, the best way to ensure an excellent event is through a digital ticketing software system. By using digital event tickets, you can boost profits, safety, and attendance.
At Ticketing4Schools, we have the best online ticketing system for your school events. Contact us to find out more.