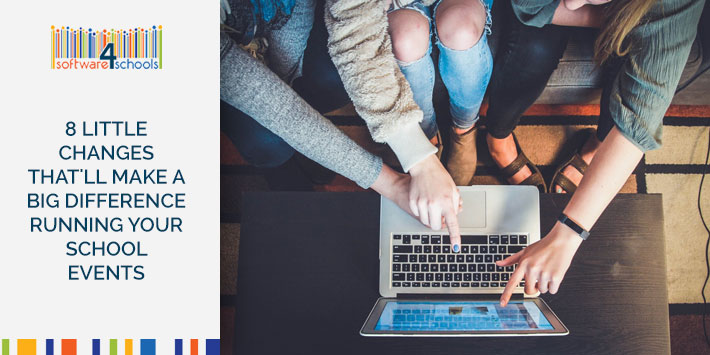 Have you ever wondered why some school events seem to be more successful and run effortlessly while others are wanting, and worse, end in disaster? We've all been at school events, whether as spectators, or volunteers doing small tasks, or as staff running to and fro filling in the gaps, only to find the leaders mesmerized with confusion because the unexpected jeopardized the intended success.
Running a school event is no small feat. Pre-event preparation, setting of goals and objectives, designing logistics, getting manpower, juggling the budget, resourcing supplies and services, all leads to one ultimate goal — a successful event!
Knowing event planning basics is a good start. And there's always something else we can learn. Here are a few ideas that might make a big difference in running your school events:
1. Planning Your Event
Yes, it sounds obvious, but every successful event starts with a well-thought out plan, regardless of size and scope. The plan includes:
Organize a planning team – Consider getting a good mix of people as part of the committee, i.e., from within the school, from the parent/guardian community, and even experts in event planning. A diversity of backgrounds brings better perspectives and more creative brainstorming as well as increasing community participation in school-centered activities.
Identify your team and their committees based on their skills – Depending on the size of your event, some committee members may assume more than one role and wear multiple hats. More importantly, each member's role and responsibility should be spelled out, with clear expectations and an understanding of their deliverables.

Chair/Team Captain – someone with strong leadership and people skills, and who can both inspire and "crack the whip" when needed.

Logistics – someone who is organized and detail oriented and has good project management skills.
Budget/Finance – someone who can create a budget, manage and maintain a budget, as well as produce financial reports pre- and post-event.
Marketing – someone who is not afraid to solicit for individual donations and can raise additional financial and in-kind support through corporate/business sponsorships and partnerships.
Promotion – someone with knowledge of marketing, media relations and/or social media skills.
Community/Volunteer Engagement – someone who has previous experience recruiting and managing volunteers and non-profit partner organizations.
2. Creating Event Goals and Objectives
Goal setting is the key to determining the outcome of events, and differentiates the very successful from the not so successful ones. To conduct an impressive event and generate maximum benefits for attendees, event planners have to understand their mission and be able to predict how things will go.
They do this by setting S.M.A.R.T. goals and objectives, which stand for:
Specific – The goals and objectives are clearly defined and well-stated. The objective is to get close to 100% attendance. Goals should include an event details plan and a logistics plan. The events details plan should be precise with date, time, and venue. Similarly, a logistics plan should list the physical state and size of the venue, budget constraints, vendors and suppliers, medical and security team, and the whole staff.
Measurable – The goals and objectives should have specificity. For example, my school's fundraiser objective is to raise at least $75,000 and to heighten awareness of the event's purpose; the event will have at least 200 attendees, garner at least 5 corporate sponsors, and have 50-75 volunteers, while striving to maintain an event budget of $25,000 or less.
Achievable – The goals should not only be attainable but also provide flexibility. Balance between the two is important.
Relevant – While it's good to keep an eye on the event's outcome, don't forget to ensure that the goals should be relevant to your school's overall objective.
Time-based – finally, goals should have deadlines. Creating a timeline with milestones helps make sure that goals are being met and team members focus on their respective priorities and responsibilities in a timely manner.
3. Developing a logistics plan
Logistics are the lifeblood of an event. It is crucial to ascertain all of the events' requirements and quirks vis-a-vis all the actual items needed to better achieve the goals of the event. These include:
Security of attendees and venue
Event map
Crowd traffic
Staff assignment and orientation – man critical areas, i.e., entrance/exit; information booth. Ensure that staff are competent and patient enough to handle complaints/issues. All staff should have a list of committee members and emergency numbers.
Technology. It is crucial to allow ample time to set up and test your technology beforehand. The last minute will not do. The sheer panic induced by the sudden last minute discovery of a missing cord or a broken microphone is dreadful!
Signage. What media do you need? What will it say? Who will deploy it?
Checklist – general supplies, what to buy? First aid? Think widely.
Contingency plans for failure of major components of the event – even rain!
4. Organizing volunteers and partners
Engage the school (administration, teaching and non-teaching staff), parents and students, nearby colleges/universities, community businesses, non-profit, and faith-based organizations.
5. Using a Ticketing App for your school event like Ticketing 4 Schools
Streamline and simplify the process at your events by using ticketing apps like Ticketing 4 Schools. These apps can help you manage ticket sales and speedily check attendees in (and out). Then you will have proper metrics for the day.
6. Finalizing and Staging a Dry Run
Alleviate event anxiety and stress by staging a dry run prior to the start of the event. The reasons are three-fold:
To test the process, identify potential issues, and adjust as necessary
To get familiarized with the tools to be used at the event such as the ticketing app and audiovisual equipment
To mitigate effects of possible failure
7. Promoting the Event
Empower your team to be creative when promoting your event using various channels like print, TV, and online. These also provide an opportunity for leveraging in-kind support from businesses in place of monetary contributions. For example, TV and radio stations can run PSA's to promote your event. Word of mouth works pretty well, too, especially linked to social media.
8. Evaluating the event
Set a post-mortem meeting to identify, analyze and evaluate all aspects that made the project a success. Identify items that can be iterated and choke points that can be improved on. Also, run a post event survey/poll using a voting app like Voting 4 Schools for quick and easy feedback from attendees. Lastly, always go over the list as part of the pre-planning phase for your next event.
In closing, running a successful school event consistently year in and year out can be narrowed down into three important factors: careful planning and preparation, teamwork, and execution. Planning and preparation consists of developing S.M.A.R.T goals and objectives, and creating detailed event logistics plan. Teamwork means building a well-rounded and cohesive team where each member works to their strengths. Finally, together with these two factors, seamless execution can be possible.
So at your next event, why not try out any one or two of these small changes and see what works best for you?
We welcome your thoughts and feedback.